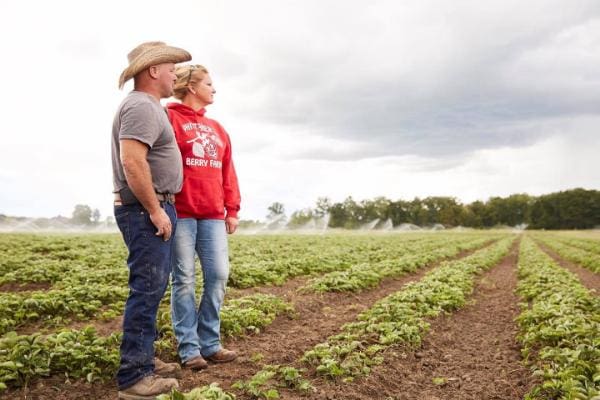 Whittaker's Berry Farm, owned by Bill and Marilyn Whittaker, is a family-owned and operated farm in Monroe County, Michigan, and we are proud to say that we are second-generation berry farmers.
Both Bill and Marilyn come from a long line of farming. Bill's parents, William and Joyce Whittaker, Sr., owned and operated a primarily grain farm operation for many years,  at one-time farming upwards of 1,200 acres.  Bill worked closely with his father and grandfather gaining a strong knowledge of all aspects of what it took to grow the best soybeans, corn, and wheat possible.  
Marilyn's parents, George and Norma Rauch, owned and operated Rauch's Berry Farm for 24 years.
Like Bill, Marilyn was born and raised in her parents' operation and gained a deep knowledge and respect for the art of growing strawberries.
Eventually, Bill & Marilyn both obtained full-time jobs separate from their family farm operations. But their love of farming prevailed, and they purchased the 121-acre farm (where Whittaker's Berry Farm is now) from Bill's parents, and slowly dipped their feet back into growing strawberries. 
It was nine years when Marilyn's parents (Rauch's Berry Farm) retired and stopped growing berries, so the farm needed to start slowly to determine if there was still a demand for fresh local strawberries.
The demand grew, and Whittaker's Berry Farm has expanded over the past 16 years from ¼ acre of strawberries to now over 14 acres!
Every year advancements and improvements are made in our commitment to providing the best strawberries money can buy and a friendly farm atmosphere to go with it!
We are passionate about growing strawberries, and we figure it's in our blood! Your patronage helps us to preserve something we believe in wholeheartedly…THE FAMILY FARM!
Children love to pick berries, so we encourage the whole family to come out, learn from us, and enjoy the farm experience!
We look forward to sharing our experience with all of you. If you have never visited our farm before, please click here to see what it's all about, and you'll learn why we have generations of visitors come back each year.