We are excited to have you visit our strawberry farm!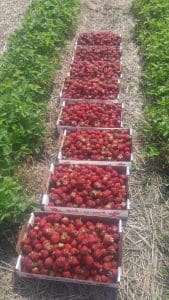 We have over 15 acres of strawberries for the 2023 season!
Our farm is set up perfectly for the u-pick experience! We understand not everyone is able to pick their own or just doesn't have the time, therefore, we offer prepicked berries as well for a limited time during harvest. Please see the prepicked berry info in the FAQs for more information about this.
Strawberry Season
Strawberry season typically begins close to June 10th-ish. Depending on what kind of Spring we have, it could be earlier, or it could be later. It is all up to Mother Nature!   She's in charge!
A normal season only lasts approximately 18 days! It all depends on the weather. Time is of the essence, so be sure to sign up for and watch for email notifications from us, or for the most real-time updates follow the farm on Facebook.  Don't miss out on the freshest, sweetest fruit of summer!
Your Visit
Upon arrival at the farm, you will be greeted by a cheerful farm member who will provide you with complimentary picking containers, and direct you back to the field parking area.
Once you are ready to get picking, a knowledgeable farm member will assign you your own rows for the best picking.
The rows you will be assigned have either never been picked, or not been touched in a few days to ensure great picking conditions! We do ask that you stay in your assigned rows to provide plentiful picking for you and for the next customers that come along.
We take great pride in offering a clean farm!
Our fields are kept clean and as free of weeds as possible. Aisles are straw mulched so that even after if rains, you can pick berries, mud free!
Our berries are ready for eating, and we don't mind if you sneak a few while you are picking!
After you have picked all of the berries your heart desires, you will drive back up to the barn to have your berries weighed.
Thank you!
We hope you enjoy your picking experience and look forward to sharing our farm with you!
Do you want to know more about the year-round preparation and work that goes into running our farm? Learn more HERE about how the farm is run year-round.